A Real A-Hole!!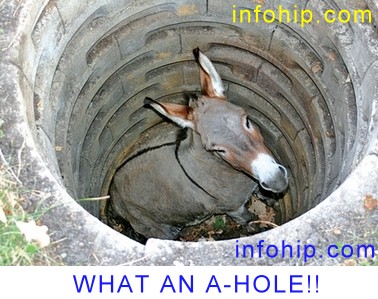 That's right. This is a picture of a donkey trapped!! Should I feel bad for laughing? Sorry PETA.
On 9/13/07 close to Underwood, Minnesota, USA. This donkey fell in this well. Firefighters had to break up the well to free the donkey. The donkey was fine in the end and left with only some bruises. And no Michael Vick doesn't own the property.
Props: (AP Photo/The Daily Journal, Jeffrey Hage)
Click here for more funny pictures!!
Click here to return to infohip.com home for forwards, cool information, lose fat for spring break, hangover cures, Napster-like programs, find a job, attracting the opposite sex, drinking games, health and hard bodies, making money, search engines, the shopper, cool links, and much more.
Get 5 magazine subscriptions for $30. Click here for details.